The Need for Heavy Transport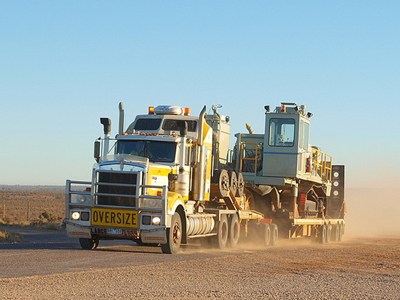 Companies often find themselves with very large amounts of stock that they need to get from one location to another. To achieve this goal, they need assistance and must often hire a heavy transport company. In most cases, heavy transport companies will use their trucks to get your freight from one location to the next. In some cases, other forms of transportation are used such as: trains, planes, or boats. Hiring an outside source to transport your stock is much more cost effective than attempting to deliver it yourself.
How does it work?
When the heavy transport company arrives to pick up your stock, they will load it into their trucks and begin the delivery process. They will supply the proper container that is needed to deliver your freight. One example of this may be a crate to haul large amounts of grain. Another example of this may be a large tank to hold liquids.
The heavy transport company that you hire will have the container already clean and sanitised before loading your freight into it.
The main responsibility of your company is to ensure that the transport company has a safe place to load your stock into their trucks. This is most often called a 'dock'. The dock must be a good size, as it will most often need to fit a semi-trailer into it. Some docks are much larger and can fit multiple semi-trailers.
Which company do I choose?
When deciding which heavy transport company to hire, you should first make sure that they are familiar with the type of freight that you need transported. You want to make sure that the company is properly equipped to handle your freight to ensure on-time delivery that is undamaged.
It is also important to take cost into account when choosing a heavy transport company. You want your freight to arrive safe and on-time; but you also want it to fit your budget. Do not just choose a company for their price. You must take both price and familiarity of your stock into account when making a decision. It may be better to pay a little more money for a company that has a lot of experience with the type of stock that you need transported.
There is an abundance of competition in the heavy transport industry. It is a cost effective way to transport your stock from one location to the next. Many companies need to utilise these transport companies at one point or another.
Westbound Enterprises is a family owned business that has been in the transport industry for over 40 years. We specialise in over sized transport for any industry.