Does Your Business Utilise Heavy Transport?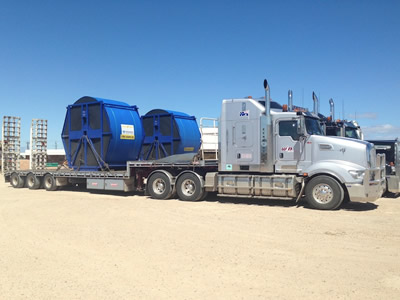 Multi-dimensional, bulky, or large capacity cargo can create unique challenges for your company. Certain industries are more dependent on unwieldy or large (up to 1,600 tonnes) equipment and goods packages to conduct operations. You might need the services of a heavy transport company if you work in the following industries:
Power Providers

Petrochemical and Oil Refineries

Wind Turbine Manufacturers

Infrastructure Manufacturers and Providers

Transportation Manufacturers

Aerospace Manufacturers

Agricultural Machinery Manufacturers

Port Facilities and Manufacturers

Pressure Vessel, Boilers, and Bridge

Transformer Manufacturers
Click here for more information.
If you think that your equipment or goods requires heavy loads, it probably does. With more and more companies expanding their operations all across Australia, and with different departments and different clients spread all over the country, your business could probably take advantage of heavy transport services.
You should call Westbound Enterprises to speak with one of our experienced transportation professionals to determine your exact capacity and transport needs. Make sure you have reliable, dependable transport service, no matter what the size of your freight load happens to be.
What Differentiates Heavy Freight Loads?
There are many points to consider when your company is planning to transport large and heavy loads. Specialized equipment will be needed to guarantee that the transportation truck can withstand the weight. Cargo securements, strapping techniques, and sheeting covers must fully protect your load. Weight-specific permits must be obtained to properly abide by Australian regulations. Advanced technology must ensure that your equipment is protected throughout the journey.
Our transportation team understands the unique needs of your heavy freight load. They have worked with a wide range of industries and have transported a variety of multi-dimensional equipment. We have low loaders, heavy-duty axles, and numerous vehicle and trailer models. No job is too bulky or too heavy for our team. They will work with your company to make sure that the transport of your goods or equipment is legally compliant with all permit, safety, and escort regulations.
Is Your Transport Provider Cost-Efficient?
Manufacturers understand that they typically operate on low profit margins. This makes finding cost-efficient partners even more important. Your business needs a transportation company that offers competitive pricing without sacrificing service. Our transport services are just what your business needs.
Westbound Enterprises will work with your specialised transportation requirements to ensure operational and success. Our team works with your business to determine your planning, design, and route requirements. We communicate all costs to you and immediately inform you of any changes in cost structure.
Our cost-efficient planning and allocating, combined with the state of the art technology utilised both in our offices and in our trucks, ensures that your heavy load arrives safely, on time, and at an advantageous cost to your business - every time.
Heavy transport shouldn't be a burden to your company. Westbound Enterprises is focused on providing your business with the highest quality transportation solutions. You can rest assured your goods and equipment will arrive to their final destination. Leave the heavy transport to us.