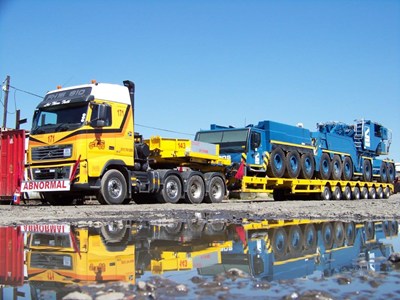 As with every type of vehicle, heavy haulage transport vehicles are required to be insured. Most haulage insurance companies will gladly insure vehicles up to 40 tonnes. There are a few select companies that offer insurance for heavier haulage vehicles and loads that are more than 150 tonnes. These insurance companies require the insured to operate under specialty licenses; to ensure they can handle vehicles and loads of this degree.
Heavy Haulage Transport Companies
It requires special licenses and a lot of skill in order to move heavy loads. Heavy haulage requires the skill to move abnormally large and awkward loads through very difficult or hard-to-work-with areas.
Escort vehicles are also needed to assist the driver while the heavy load is being transported. They are primarily used to alert the heavy haulage driver of any road hazards or conditions before the driver reaches those areas.
Heavy haulage specialists deliver a wide range of freight. Some of the types of freight that need the assistance of an escort driver are:
Construction Freight

Engineering Freight

Railway Freight

Aviation Freight

Ministry of Defence Freight
Not all freight deliveries need escort vehicles to assist them while driving. Not every load weighs such incredible amounts and can be driven as normal.
Who Insures Heavy Haulage Companies?
It can sometimes be difficult for heavy haulage companies in the UK to find the special insurance that they require. Most insurance companies only insure up to 40 tonnes. There are several reasons insurance companies usually don't provide insurance over 40 tonnes.
Many insurance companies do not have the proper expertise that is required to assess the risks of heavy haulage companies in order to make a profit.

Heavy haulage loads primarily file claims that are related to impact damage of the heavy load. Such frequent claims are potentially high; which makes it difficult for newer insurance companies to enter the heavy haulage insurance market.
Although finding insurance for companies that provide heavy haulage transports can be difficult; it is not impossible. There are many key insurance companies that provide the coverage needed for these types of special load companies.
Whether you have fleets of heavy haulage vehicles, or individual haulage vehicles and trailers, it is best to seek professional advice on the type of insurance you need for your specialty company. You want to make sure you have the proper insurance in the rare case that something goes wrong with your heavy haulage transport.
Westbound Enterprises is a family owned business that has been in the transport industry for over 40 years. We specialise in over sized transport for any industry.