Vehicles Used For Interstate Freight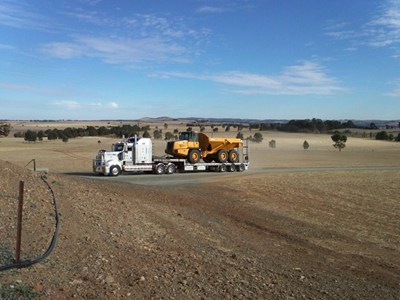 Interstate freight can often turn out to be a huge responsibility and even a headache, especially when you are transporting very heavy loads. You cannot depend on a typical heavy hauling service for your needs. Therefore, you would have to look for oversized load transportation specialist companies who can handle these tasks better and ensure the safety of your consignment. These vehicles are generally used by the mining companies, construction companies and even the farming sector businesses. Here are some of the most common types of vehicles that would be used for heavy interstate freight in Australia.
Tilt Trays- they are really multipurpose in their design and can usually transport different types of site huts, cars and machinery from one place to the other. The vehicles usually have an adjustable tray at the back. The consignments can easily be mounted or dismounted from these trays. They are available in a wide variety of sizes and shapes as well.

Tilt Semi Trailers- if you wish to transport very large or heavy goods from one place to another, you should definitely be looking forward to the tilt semi-trailers. They can really handle large loads with ease and can usually transport large shipping containers, mobile homes, huge equipment used in agricultural or construction sectors site huts and more. As the size of these trailers is significantly large and they can also handle a huge amount of load, you can even chose to mount several different items on the trailer. This shall help you in saving a lot of money while engaging in an interstate freight heavy transport.

Low loaders- low loaders have been designed specially to transport machinery. Just like the tilt trays, they also have a ramp to load the machines from the back. Sometimes, they can even be used to load vehicle which can easily fit into the ramp of the low loaders. They are great for transporting agricultural machinery, rollers and sciossorlifts. Even excavators can easily be transported with the help of these low loaders. Interstate freight becomes much easier because of these loaders.

Extendable trailers- these trailers are used for loads that are longer than the others. They are extremely oversized loads that can help you in transporting non-standard loads. If the load is longer than it is wide, this would be the perfect choice for you. However, you need to make sure that only an experienced and highly qualified driver transport this load as it can become very difficult to handle on many occasions.