Interstate Freight Is Important to Your Business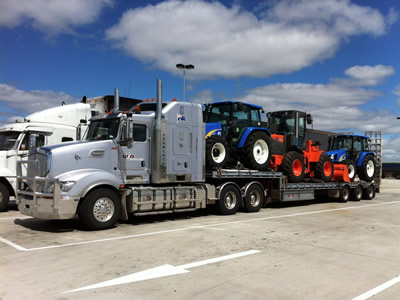 Interstate freight is a vital industry. Without a strong and fluid trucking network, all sorts of economic activity would be affected. Any business that relies on the transport of goods or services needs a dependable interstate freight service provider. When building relationships with your outside providers, don't forget about transportation.
Click here for more information.
Successful logistics and supply chain management can't happen without interstate freight. Think about the following questions:
How will your efficiently obtain and store the goods that your business uses?

How will your customers receive the goods they want in a satisfactory manner?

How will you ensure that your cross-country business operates smoothly and with all the resources that your business needs?
Today's world and today's businesses are increasingly on the move and have increasingly complex relationships with suppliers and distributors. You need to work with an interstate freight transport provider that will guarantee that your goods are delivered in full, on time, and in quality condition - every time.
Find A Company That Can Handle All of Your Freight Needs
Whether your business needs standard hauls, oversized loads, or specialized handling for your goods, you will need a transportation company that can accommodate you. A good interstate transport company will utilize a wide range of vehicles, flatbed sizes, and trailers to meet your freight challenge. At Westbound Enterprises, we have a wide range of loaders and trucks to handle any load.
Our interstate drivers are compliant with all regulations and are certified in all safety and health areas. Our drivers stay safe to keep your freight safe.
Save Your Business Time and Money
Interstate freight needs to be time efficient and cost efficient. If it costs too much money to manage your supply chain, this could mean a downsizing of your business. If transporting goods to your customers costs more than the money your customers are paying you, then your revenues will go down. Above all, your business needs to watch your bottom line.
Westbound Enterprises understands the importance of savings. Our transportation services provide your company savings as your freight load increases. We employ quality transportation professionals with trusted expertise in interstate freight services. They take measure possible to ensure your business' products are protected through any long-haul interstate transport.
We also offer flexible pickups and deliveries in order to accommodate your transportation needs:
Daily pickups

Overnight services

1-2 business days

2-3 business days
Take Advantage of Technology
Your transportation provider should be innovative and offer you the latest technological solutions. This will help you maintain constant control and oversight of your products throughout the entire transportation process, from start to finish.
Westbound Enterprises has the technology - and a staff of experienced professionals to work both with you and with our equipment. If you need transport to and from Perth, Adelaide, Melbourne, Sydney, Brisbane - or anywhere in between - we are here to service you. Our barcode scanning and tracking software guarantees that your goods will be transported anywhere across Australia with utmost confidence.