Freight Companies in Melbourne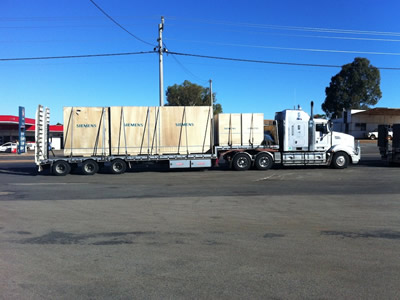 Given its location on the continent and its position as one of Australia's leading ports, finding freight companies in Melbourne is only a problem in deciding which one will best suit your needs.
Click here for more information.
Of the 200 freight companies listed in online Altius Directory, more than 10 percent of them are headquartered in and around the Melbourne area. They specialize in everything from container shipping to hauling bulk products such as grains and protein meal and liquids from milk to hazardous materials like propane.
The larger freight companies in Melbourne all have professional, licensed, and trained drivers and many require their drivers to undergo continuous driver training. All have the licenses and permits needed to access ports and pass borders and checkpoints.
The typical freight company treats its drivers as the central cog they are in the successful transportation of cargo. Many have a list of driver requirements, including:
Giving attention to the safety systems of their truck

Prohibiting the use of any intoxicating substance

Pacing themselves to manage fatigue by taking regular breaks

Taking regular health examinations

Scheduling drivers to provide for a proper amount of time away from driving
Safety of the driver and the load is of primary importance to the freight companies in Melbourne, meaning they spend a great deal of time and money on the repair and upgrade of equipment and offer the most reliable fleet of trucks on the road today.
Trucks of Every Size and Type are Available
There is a truck available to the freight companies in Melbourne to meet any shipping need, whether general freight or wharf to warehouse transport. Companies are available that maintain bulk pressure tankers that can carry a wide variety of food products or other non-hazardous goods. There are bulk tippers for wheat loads or shipments of fertilisers, gypsum, stock feed, and limestone.
Others truck types available include taut liners for general cargo, container and pallet trucks, or even automotive trucks and skeleton trucks - whatever fits the need.
Freight companies in Melbourne pride themselves on their reliability, timeliness, attention to detail, and competitive prices. Service to the customer is paramount, and many companies have earned a loyal customer base of manufacturers, exporters, and suppliers.
Cargo Express in Melbourne, for example, specializes in container trucking and promotes the fact that the containers it uses are designed specifically for added durability and to keep the weather or unwanted pests from invading the cargo.
Freight Companies are Full Service
Freight companies in Melbourne provide more services than simply getting a load of cargo from Point A to Point B. Among the services that can be found at companies in the area are:
Customs clearance

Interstate transport

Logistics consulting

Crane trucks

On loading and off loading

Automotive and machinery transport
The world passes through our ports and the freight companies in Melbourne have the equipment and expertise to handle any hauling job put before them. Once a shipment gets here, it can go anywhere.