Finding Quality Freight Companies in Perth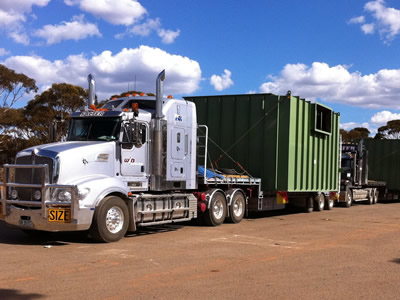 As Australia's capital city and the largest in the state of Western Australia, Perth has a road and rail infrastructure that is second to none. Situated on the South West coast of the continent it is regarded as the political city rather than an industrialised one. Much of that is due to the city's relative isolation with regard to other major cities. The next closest sizable habitation is Adelaide some 2,100 kilometres away to the east and this has had an impact on Perth's position as a major port. Hence the growth of freight companies in Perth.

Click here for more information.
While a seaboarded city, the main container port capable of handling seaborne freight is based in Fremantle some 19 kilometres to the south west of the Swan river around which Perth is based. The port itself contains the major freight-handling rail services that take goods inland as well as bringing bulk commodities from inland.
Western Australia is rich in natural deposits of many desirable commodities, and is the World's second largest producer of Iron Ore though much of these materials are exported via ports to the north and west of the territory, leaving Fremantle with a mixture of Bulk commodities and container vessels. The needs of the port are serviced by two main methods:
Rail Transport: - An increasing amount of the container freight to and from Fremantle port is handled by rail services. The interconnecting rail system has been designed to carry extensive loads across the huge distances between cities or industrialised areas.

Road Transport: - Road transport still takes the majority of container transport as it offers the flexibility of reaching areas not serviced by the rail network. In addition to this several companies have established themselves in the specialist freight market specifically aimed at the supply of large and unwieldy mining and excavating equipment that is difficult to handle by rail.
Road freight holds a significant section of the container-delivery market but with running cost for road vehicles generally much higher than Rail costs, the flexibility of road freight is being seriously challenged. As a general rule, rail transport consumes about a quarter of the fuel that road transport does for short-haul transport, with this further reducing to around a sixth of the cost for long-haul transport. With transport in Western Australia usually denoting thousands of kilometres, the saving in fuel that rail freight offers is significant and desirable.
The logistics of moving freight around a country as large and relatively unpopulated as Australia means that any method of transport needs to be cost effective, and air freight becomes a serious contender when considering the movement of smaller freight items. Perth Airport is able to handle the transport of freight both within Australia itself and internationally.
Many freight companies in Perth exist to manage the transport of freight by these means. WestBound Enterprises (www.westboundenterprises.com.au) is one such company, and with many years' experience behind them, they are able to offer the very best solutions for moving freight in this most trying of the world's areas.